Welcometo our AVON party.  It's all about you!

We have so manyexciting items, both familiar and new.

Some make youfeel pretty, some just really feel good.

Let's pamperourselves.  You know we should!

There's makeup that sparkles and jewelry that adds bling.

And now we haveshoes..that makes my heart sing!!

Solet's take a pencil and add up your score.

There's a prizeat the end...and samples galore.

 

...
Read Full Post »
Business Opportunity BagsDirections
Print a  intro -welcome letter on some pretty paper with a cute border. Let your new contacts know your services, Buy, Sell, fund-raising & the products AVON has to save them money etc..
 Use 10 pretty Tote bags- Our new AVON small totes would be perfectSpray the bags with a nice Avon Fragrance (Fergie Outspoken intense)
Add several different samples to the bagAdd a c...
Read Full Post »
GREAT IDEA TO HELP BUILD FRAGRANCE SALES... GIVE OUT TO YOUR CUSTOMERS!
Fragrance of the Month Club
 Join this fun and exciting new club with me. It's so great and leave you smelling wonderful and with new friends!!
 For your membership (which is free) you get three samples of the Fragrance of the Month
 Then give me your feedback via email or Facebook and we will share our comments with everyone.
...
Read Full Post »
Have an AVON Party!
by Lisa Monoson - EUL
Steps to a great AVON Party
• SET UP is 1-2-3!

 

1. Name tags if people do not know each other, have light refreshments, your own makeup should be AVON Products, and if you have AVON Jewlery etc wear it dress professional ! Serve cookies and soda or punch.

...
Read Full Post »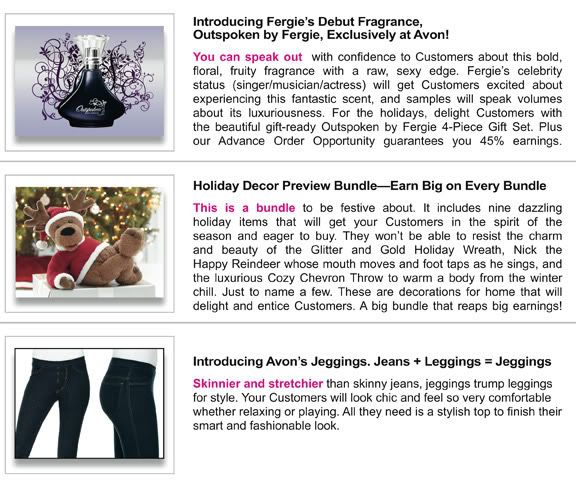 Ladies, I must say that the links that Lisa has provided for us n this site are awesome! If you have not checked them out yet, please do so. Will and I are still new to the team so I decided to follow the Vistaprint link that Lisa shared. ALL PRODUCTS are pisted at discounted prices! I ordered 200 (or 250) business cards and a rubber stamp for promotional purposes. My order with the price of shipping was approximately $30! Great dea...
Read Full Post »
Here's another email I received from Terra, a new Representative, who wanted to share some great information for you to mention to your customers:
Just an FYI...maybe a selling point to share with other Reps!
I just got done reading an article on the best and worst sunscreens on the market right now. Avon's SPF 30 sunscreen with bug guard was voted #6 on the best list. It is also the most affordable on the "best" list. The number 1 sunscreen costs $85.....
Read Full Post »
Okay - so here comes the next big idea I have (having another sleepless night...ha ha).
I decided to do some marketing research with Naturals line (Coconut & Lemongrass)
.
Did you know that it smells ALOT like Coconut Lime Verbena (one of my old favorites)...that's sold at Bath and Body Works?!?!?!?
I went to the Bath and Body Works web-site...and here is what I found out.
Their fragrance mist is $12...our intro pric...
Read Full Post »